Cottage Country Roundup: Winter Edition
Do you miss your summer weekend escapes to a cottage? Why not book yourself a mid-winter retreat? Ontario cottage country is open for business during the winter – no matter where you consider cottage country to be located. Here are nine winterized getaways in Ontario, each one with a fabulous winter activity in its backyard. Come back to a hot shower and maybe even a fireplace, sauna, or hot tub after a full day outside.
1. Snowshoe in Bruce Peninsula: Georgian Bay Retreat, Wiarton
Get out and enjoy winter in Bruce Peninsula. From trails in the lightly-maintained Bruce Peninsula National Park to local conservation areas and parks to neighbourhood snowshoe tracks, this Wiarton cottage is ideal to come home to after you spend an afternoon breaking trail and working up an appetite. Don't have your own equipment? Snowshow rentals are available from Suntrail in Hepworth.
The southern Georgian Bay cedar-sided retreat sleeps six and rents for $500 a weekend and $750 a week until early May. For more information, check http://www.cottagesincanada.com/georgianbayretreat
2. Ice climb in Muskoka: Trenanthia Cottage, Gravenhurst
Relax your aching muscles in a lakeside sauna after a day of climbing the waterfalls in Muskoka with Muskoka Outfitters Outdoor Sports Centre. They offer clinics and lessons near their Bracebridge location as well as guided adventures in snowshoeing and backcountry skiing.
This Gravenhurst cottage sleeps 12 in five bedrooms with four bathrooms, so round up your friends to enjoy the winter life. It rents for $895 a weekend or $1,495 a week until early May. For more information, check http://www.trenanthiacottage.com/ or http://www.cottagesincanada.com/trenanthiacottage
3. Snowmobile in the Kawarthas: Fairview Cottage, Fenelon Falls
Use this Fenelon Falls cottage as your home base for a Kawarthas-snowmobile adventure. Kawartha Lakes boasts nearly 200 kilometres of groomed snowmobile trails through forests, past sled-friendly restaurants, and along an old rail line. Permits, licenses, and insurance are required before you go snowmobiling (Refer Ontario Tourism's snowmobiling tips and essentials)
The Farview Cottage on Sturgeon Lake sleeps eight and rents for $690 a week until the end of May. For more information, check http://www.cottagesincanada.com/farviewcottage
4. Play hockey on nature's rink in Eastern Ontario: Deerview Luxury Cottage, Perth
What could be more Canadian than playing a pick-up hockey game with friends on the local lake? Check ice conditions with local authorities – ice should be clear, blue, and at least 15 centimetres thick – before lacing up the skates. Warm up after the game with a steamy mug of hot chocolate in a three bedroom cottage on the shore of Patterson Lake in Perth.
Deerview sleeps six and rents for $695 per weekend or $1,295 per week. For more information, check deerview.ca or http://www.cottagesincanada.com/luxurydeerview
5. Try your hand at mushing in the Haliburton Highlands: Cooper Lake Cedar Cabin, Huntsville
Spend a day with Winterdance Dog Sled Tours in Algonquin Park, running with Siberian Huskies who have completed Alaska's Iditarod AND the Yukon Quest – both 1,000 miles long. Husband and wife team Hank DeBruin and Tanya McCready or one of their seven guides can take you on tours ranging from two hours to multi-day, teach you how to drive the sled, or take you on a tour of the dogs' kennels.
Return home to this Cooper Lake cedar cabin near Dwight that sleeps four and rents for $395 per weekend or $1,095 per week until the middle of June. For more information, check http://www.cottagesincanada.com/cooperlake or http://www.atcooperlakecottage.ca/
6. Try Ice Fishing in Northern Ontario: Upper Garden Nature Retreat, Powassan
Want to try your hand at ice fishing but don't want to stay overnight on the ice? Come back to a cozy retreat to cook up your catch after spending a day on Lake Nipissing catching walleye, northern pike, whitefish, or perch. Refer here for list of ice fishing operators on Lake Nipissing
The Cabin, a lovely nature retreat, rents for $600 a weekend or $1,400 a week, all year round. It sleeps two. For more information, check http://www.cottagesincanada.com/uppergarden or http://www.uppergarden.com/
7. Follow Ontario's South Coast birding routes in Southwestern Ontario: The Fish Bowl Cottage, Kingsville
The Fish Bowl Cottage in Kingsville finds itself towards the far western end of Ontario's South Coast birding trail. Even in winter –with plenty of open water still to be found in the area – hardy birders search out owls, ducks, gulls, and the odd species that decided to go no further south for the winter. Birds returning north to their nesting grounds will also pass through the area long before the rest of the province sees the spring migration.
This cottage sleeps seven in three bedrooms and two bathrooms and rents for $400 a weekend or $900 a week until the end of June. For more information, check http://www.cottagesincanada.com/thefishbowl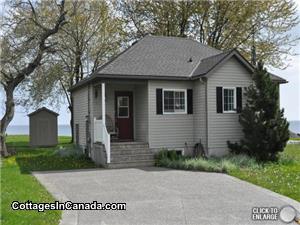 8. Tour the Icewine route in Southeastern Ontario: Sandpiper Lake House, Dunnville
This is the season for one of Ontario's most distinct products: Icewine. Forty wineries between Niagara-on-the-Lake and Twenty Valley are participating in this year's Niagara Icewine Festival. Grab a Discovery Pass to enjoy eight experiences, attend a gala, or if icewine is not for you, attend the inaugural Skate Niagara Ice Show with Canadian Olympic greats Tessa Virtue and Scott Moir.
Make the Sandpiper Lake House your base for all your Niagara winter fun with friends or family. This four-bedroom cottage in Dunnville rents for $300 per weekend or $1,200 per week until the end of April. For more information, check http://www.cottagesincanada.com/sandpiper3096
9. Cross-country ski in Prince Edward County: Winery Farm House, Picton
If you can tear yourself away from the winery associated with this cottage near Wellington, then spend the day out on the cross-country ski trails in the Macaulay Mountain Conservation Area (about 11 kilometres of trails), about 18 kilometres away in Picton. Trails slope gently and are appropriate for beginners and experienced skiers alike. Bring your own skis and boots or rent equipment before arriving. Warm your feet by the fire in the family room in the evening with a glass of wine from By Chadsey's Cairns Winery and Vineyard.
This brick, century farmhouse sleeps 10 between five bedrooms and rents for $900 a weekend or $2,400 a week until the last weekend in June. For more information, check http://www.cottagesincanada.com/win
With two months left of winter and so many opportunities to enjoy the season, we hope our list above will help you plan a memorable winter cottage adventure in Ontario.
By Kate Ming-Sun